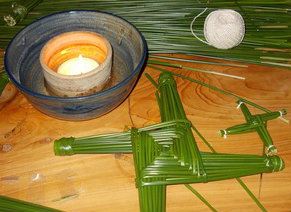 Brigit's Day, February 1st in the Celtic calendar, marks the beginning of spring in the Northern Hemisphere. Brigit, the female figure of divinity of Old Europe, was said to "breathe life into the mouth of dead winter."
And do we ever need spring! Winter ice and snow remind us that a thaw and a greening must be around the bend. Yes, it is time to say goodbye to winter, celebrate Brigit, and let spring begin!
You are invited to have ready a candle, a piece of cloth, a bowl of water, and a glass of milk.
Light Brigit's Candle
From Brigit's Arrow Invocation, Traditional
Most Holy Brigit, Excellent Woman,
Bright Arrow, Sudden Flame;
May your bright fiery Sun
take us swiftly to your lasting kin-dom.
Glimpse Brigit's Story
Brigit of Ireland was born in the middle of 5thcentury CE into a Druid household and taught the secrets of the old religion. She was goddess of hearth and master of fire. She founded a famous monastery in Kildare which housed a sacred flame until well into the 16th century.
As the story goes, Brigit asked a rich man for land to build the monastery. He offered to give her a site as far as her cloak would reach. When she spread her cloak, it encompassed all of Kildare.
This story places Brigit in the long line of female divinities throughout Europe and beyond who also used their cloaks to claim the land they needed for their work.
Brigit's cloak is the cloak of mercy, and an Old Irish blessing is
May Brigit's mantle protect you always.
Lay a Cloth for Brigit's Healing SpiritTradition has it that on the Eve of Brigit, January 31st, people lay a piece of cloth outside. During the night, the Spirit of Brigit passes over it. On Brigit's feast, February 1st, they take the cloth back in and tear it into strips and give them to loved ones for healing. This blessing is a gift to tired and weary spirits coming through the darkness of winter.
Put a cloth outside on January 31st. Red is the colour of healing, but any special cloth will do.
Touch Brigit's Well
As abbess of her vast monastery, Brigit performed many miracles of healing using water. There are hundreds of holy wells in Ireland and Europe dedicated to her that have healing properties for those who honour them.
Put your hands in water and ask Brigit to heal you or a loved one in whatever way you need.
Hang Brigit's Cross
Brigit was a form of the sun goddess, and her symbolism remains attached to the sun in the form of Brigit's crosses. On the eve of Brigit's Day, January 31st, people honor her memory by weaving crosses from rushes or straw. These "Brigit's Crosses" are believed to bestow the saint's special blessing on their households. On February 1
st
the old cross is burned, and the new cross replaces the old one above the door, hung each year to protect the house from fire. To make a cross, go to
http://www.fisheaters.com/stbrigidscross.html
.
Hang a Brigit's Cross and pray:
Holy Brigit, watch over this house
and this community.
Mother of the Earth and Sun,
Keep us safe and keep us warm.
Give your blessing to each one.
Share Brigit's Communion
Brigit is often depicted carrying a milk pail. The milk of the Sacred Cow was one of the earliest sacred foods throughout the world, equivalent to our present day communion. Milk represented the ideal form of food for its purity and nourishment. Milk from the Sacred Cow was believed to provide an antidote to the poison of weapons. Mother's milk was especially valuable and was believed to have curative powers.
Drink milk and pray "Brigit's Table Grace" from St. Brigid's Monastery in Kildare, Ireland:
I should like a great lake of finest ale for all the people.
I should like a table of the choicest food
for the family of heaven
Let the ale be made from the fruits of faith,
and the food be for giving love.
I should welcome the poor to my feast,
for they are God's children.
I should welcome the sick to my feast
for they are God's joy.
Let the poor sit with Sophia
at the highest place
and the sick dance with the angels.
Bless the poor, bless the sick,
Bless our human race.
Bless our food, bless our drink, all homes,
O God embrace.
Reflect with Brigit
Invite Brigit into your heart. Let go of winter, your winter. Open yourself to newness and to a connection to Divine Wisdom.
Receive Brigit's Blessing
May the road rise with you.
May the wind be always at your back.
May the sun shine warmly on your face.
May the rain fall gently on your fields.
Until we meet again
May She hold you
In the hallow of her hand.
Watch and recieve Brigit's blessing sung at a WATER ritual with Mary Condren here.
©
Diann L. Neu, D.Min., is cofounder and codirector of WATER. Special thanks to Mary Condren, director of
Womanspiritireland
for her groundbreaking work on Brigit. We are indebted to her for many of the ideas in this ritual.