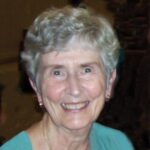 Originally posted for
National Catholic Reporter
By: Mary E. Hunt and Cathy Jaskey
Dominican Sr. Kaye Ashe was part of a generation of smart, committed, gutsy women who opened the world's eyes to Catholic women's potential and barriers to its fulfillment. She died Feb. 15 at the age of 84.
Rooted in her faith and religious community, Ashe pushed for women's social equality and full participation in the Roman Catholic church. Like so many of her cohorts, she was deeply accomplished. She earned a doctorate, published several books (Today's Woman, Tomorrow's Church in 1983 and The Feminization of the Church? in 1997), taught widely, administered effectively, and served as prioress of her religious congregation, the Sinsinawa Dominicans.
Ashe actualized her vision of an equal society and a just church through empowering women in higher education at Rosary College (now Dominican University) in River Forest, Ill. She was a founding member of Mary's Pence, a group that gives grants to small women's organizations. She participated in the Women-Church Convergence, a coalition of Catholic-rooted feminist groups. Ashe was tireless in her teaching, writing and consciousness raising. At an age when many people retire, she moved from Wisconsin to California and started a new teaching job. She continued to work for justice with the kind of personal integrity and dancing way that made her so attractive.
Strands of her unique story are repeated in the lives of so many amazing Catholic women, in and beyond religious orders, who persist in education, ministry and leadership despite lack of any institutional church support, and indeed often with its opposition. These women are not household names; most come and go with little fanfare. They have no ecclesial titles. But they have far more influence than they realize, and the Earth is a richer place because of them. Imagine if they were given the jobs they merit and the respect they deserve, how much better off the world would be.
It was only at the end of her life that this pair of writers realized that we both had come under Ashe's good influence. Hunt met Ashe in the 1970s through several Dominican sisters who were studying in Cambridge, Mass. Early stirrings of the Catholic women's ordination movement brought diverse women together for discussion and strategizing.
Ashe was a friend of Mary Daly, the late feminist theologian and philosopher who taught at Boston College. Ashe met Daly, who worked as a housemother (according to Dominican Sr. Mary Ewens -- the image is astonishing!) for the Dominican Junior Year Abroad program in Fribourg, Switzerland, where Daly completed two of her three doctorates. Ashe and Daly vacationed together, riding motor scooters around the region in what must have been hilarious good times. Daly recounted their exploits with delight to Hunt, who shared them with Jaskey.
Jaskey, an associate of the Sinsinawa Dominicans, is grateful for the feminist foremother she found in Ashe. Ashe's was an important voice questioning and challenging institutions. Jaskey's choice to work in a feminist nonprofit organization was inspired by her education at Dominican University, especially its mission, and the support she found in faculty, staff, and sisters -- Ashe's people.
Jaskey remembers Ashe leading a tai chi session at a conference a few years ago. Ashe, 80 at the time, was a peaceful, joyful presence. Her bold work was centered in a holistic, bodily spirituality. This balance of contemplation and action seemed sacred, something for which a young woman could strive.
Ashe's wisdom and beauty reflected Dominican University's culture, where it is often said, "At the heart of everything is relationship." Those who knew Ashe were privileged to experience this firsthand. Jaskey did not know Ashe well, but she has long kept a poem of Ashe's about community on her wall:
The search --
for self,
for wisdom,
for love,
for truth,
for justice,
for God --
is strenuous and unending.
We need good companions
in order to persevere in it.
In good company,
in a community of conviction,
the quest never loses its
relevance,
its urgency,
or its savor.
With so much justice work to be done, it is easy to feel overwhelmed or hopeless. But with companions like Ashe, the work is a pleasure. The lineage of Catholic women committed to justice and equality lengthens from generation to generation as young women join the work. Ashe's spirit lives.